The YA Sisterhood blog is hosting a great big YA Crush tournament and right now our very own bad boy fallen angel PATCH is in the spotlight!! He is up against Ren from Nightshade.
You can vote for PATCH (please) from now through 3 am Friday morning (assuming that is Eastern Time)
Check it out
here
and pretty please vote for PATCH!!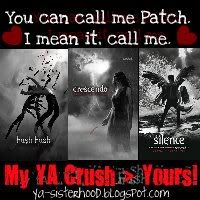 PS - Thanks to Momo over at
Books Over Boys
for being Patch's advocate and for rallying the troops to vote for PATCH!!!